There is something about sexual tension that gives you the chills and thrills especially when you are around with your sexy female partner. It makes you feel good about yourself and she seems to like it too. The chemistry between the two of you is undeniable. You can see the sexual desire in her eyes. The feeling that the two of you share makes you feel like a better man. The sexual tension is rising and your desire for her is getting stronger and you can hold it no longer.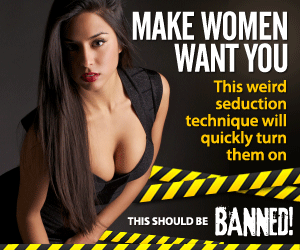 For some reason, the two of you are not able to carry out what you have in mind. You are held back for some reason. The obstacle could be perceived or actual. Probably you just want to play it safe. You want to raise the level of the sexual tension high enough before you will make your move. That is one logical plan.
Unfortunately, there are a lot of nice guys who fell to the friend zone because they have not raised the bar of sexual tension high enough. They are afraid to take the risk but you are different. Dating is similar to gambling. The higher your bet, your return of investment is also higher. In contrast, you will win less if you bet lesser. If dating could be compared to gambling, then it is just right that we should make some calculated risks in order for us to get a girlfriend. Here are the ways that you can do to build up the sexual tension:
1. Know the girl's profile. You have to recognize that each person is unique. We have different desires, aspirations and goals. What works with one person may not work on another person. Some ladies welcome a very seductive approach in dating while others prefer to take it nice and slow. It is to your advantage if you are able to identify the lady's profile so that you can cater your seduction techniques to her specific needs.
2. Eye contact. The eye is the window of the soul. You may have heard this phrase countless times. I would like to inform you that it is true. Your eye could tell about you. It could tell your current condition, what you think of the person in front of you and many others. Your eye is your asset and it is just fitting that you should use it to your advantage. A good eye contact could mean that you are paying attention, interested with what the other person is saying and you are trust worthy.
3. Flirt. If you like the girl, then don't be afraid to show your interest. Let the lady know that it is on! Flirting can excite the girl's desire towards you. Excite the girl as often as you can. Although ladies may not openly admit it, they are enjoying it deep down inside. So keep the pressure on, soldier!
4. Tease. The ladies already know what most men want before we can even speak. What you can do is to ease up the tension by teasing them. You are disqualifying yourself as a potential suitor temporarily so that you can focus more on what matters most which is to get to know the ladies. Don't be afraid to call out her rude attitude or to point out her flaws. Do it in a playful way and don't dwell too much on it. Keep it light and casual. If you are having a hard time to picture it, then you can compare to teasing your sister. You are not afraid to tease your sister, are you?
5. Touch the woman sensually. If you want to become the lady's lover, then touch her. If not, then keep your distance. When you are dating a woman, you are applying for the lover position in her life. You don't want to be her friend. Touching a lady conveys your interest in her. You are giving her a message that you want to be more than just a friend. When the opportunity presents itself to touch, then grab it with your two hands. Such a chance may never come again.
6. Be playful. One key to successful romantic interaction is to not expect too much from it. Keep the flirty interaction casual and pressure free as possible. This will set the mood for more romantic encounters. Being too eager and demanding kills attraction. It makes you look needy. As far as I have known, clingy guys are not sexy. Be playful and keep it casual because attraction will be just around the corner.
7. Make the stolen moments happen. As much as possible keep the interaction between the two of you a secret. The stolen romantic moments will give the both of you the thrill. The adrenaline keeps on rushing as the two of you interact. This is very exciting and it keeps you looking forward for more. It makes you wonder. When will you ever get caught?
8. Talk about the naughty topics. If you want the girl to think about the romantic possibilities between you and her, then bombard her thoughts with naughty possibilities. Find some opportunities to make her fantasize about you and her. Take her hand and lead her to a land of your wildest sensual dreams. Did you know that ladies want sex too? What you need to do is provide her with the tools and give her a little push. Make her mouth water and keep her wet.
9. Give her mixed signals. Ladies like a challenge. For some reason, they want to pass something before they can enjoy their reward. Knowing this fact prevents you from giving in too soon. This is not sexy and it makes you look like a needy person. How about a different approach? You make the girl earn for something before giving her a reward. In addition to that, giving the ladies some mixed signals encourages the ladies to be curious about you. It will leave them pondering whether they got you or not. This push-pull technique makes the girl want to win you over. This is used by successful master pickup artists in dating.
10. Give her some compliments. Hearing about the good things about ourselves could cheer us up. It gives us the validation that we need in order to make our day. When you are complimenting a woman, make sure that you avoid mentioning her body. Focus more on her personality and her clothes. It is important that you remember to identify the lady's profile before you give your heartfelt compliment. Any blind compliments could backfire. You have to know who you are dealing with in order to give your compliment the desired effect.
What do you think you can do to make the woman sexually attracted to you? Can you count the ways? Increasing the sexual tension with a girl means laying the foundation for the intimate connection that you and the girl could share. You are not there yet but you are on the right direction. What you need is just a little push.
Building up the sexual tension could mean the difference between going to the bang land and going to the dreaded friend zone. It would be rude to pick up girls openly that is why you need to raise the sexual tension in order to reach your expected goal. Each step could bring you closer to her. Each move prepares her for the sensual pleasure that could come her way if she behaves herself.