What do you think is the difference between a master pick up artist and a frustrated joe? What separates a master pick up artist from the rest is his seduction system. Just like you and me, they are human beings too. They have their desire, hopes and aspirations. They also have some weaknesses of which we can relate. However, they choose to rise up from their flaws and to learn from their experience. As a result, they are able to come up with methods of attracting and seducing women in order to make our dating experience more enjoyable.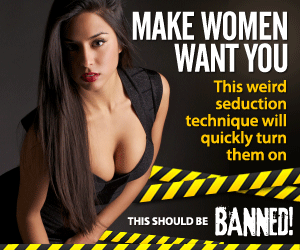 According to Logan Edwards, there are five stages of seduction that you have to go through in order to have a more pleasing intimate moment with the girl that you desire. It is to our advantage if we learn and understand the principles behind these stages of seduction in order to increase our chance of getting a girlfriend. As you are able to assimilate the core principles of attracting and seducing a girl into your system, you can go through the stages of seduction with ease. Here is a brief overview of the stages of seduction that you have to undergo:
1. Open. In this stage, your goal is to create a small window of opportunity in order for you to get the attention of your target and to demonstrate your value to her. You can make use of the openers in order to accomplish this stage. There are two types of openers. The direct opener and the indirect opener. The direct opener is a blatant sexual proposal to a girl. This will put you on a situation where you could be labeled as a pervert. The indirect opener on the other hand is much more discreet. Most successful pick up artists prefer the indirect opener because it is much more welcomed and the stakes are low. You can safely walk away when things are not going your way. Remember that you only have a very small window of opportunity to charm a girl. Therefore, it is imperative that you take control of the interaction. As you interact with your target and her friends, you can playfully flirt with her. Nice guys are afraid to tease her because they don't want to take the risk of losing her approval. Be different. Treat her like your sister and be comfortable with her.
2. Hook. If your target has a company, don't make the mistake of ignoring them. Remember that the girl's loyalty belongs to her friend at this stage. This is because she has known that person for a very long time. Work with her group, not around it or against it. Let her friends feel welcomed during the interaction so that you can gain an uncontested access to your target later on. Most men make a mistake of bragging about their wealth and achievements. Although this works for some girls, you can still use a more effective method of demonstrating your social value. You can make use of storytelling. This is a more welcomed and subtle way to increase your value in her eyes.
3. Attract. While hooking the target's group, you can momentarily ignore your target in order to gain the approval of her friends. You can give her just a little attention right towards the end in order to show her that she have caught your eye. In this stage of seduction, you can now safely pull away your target from the group in order to flirt with her. At this moment, you can continue to tease her and to break her natural defenses. Make sure to initiate touch in order to elevate the sexual tension between the two of you.
4. Connect. When you have laid the grounds for seduction during the previous stages, you can proceed to a more intimate conversation with a woman. This stage of seduction could determine the outcome of the last stage. Therefore it is crucial to get this right. When connecting with a girl you need to stimulate her imagination and emotion. The bad boys are very good in this stage. However, they are on the opposite side of the spectrum. They stimulate a negative response from the girls. It may be unpleasant but the bad boys successfully stimulate their target. While the nice guys on the other hand are so predictable and non-stimulating. If you want to attract and seduce a girl, excite her imagination and emotion. During the connect stage, both you and the girl are finding a common ground to work with. Common interests could serve as a bridge to a deeper connection with a girl.
5. Close. This is the culmination of your interaction with the girl. Your outcome may vary ranging from getting her phone number, kissing her on the lips, being intimate with her or be rejected. It is crucial that you should be prepared with the possible outcome that you are going to face. In this stage of seduction, you reap what you sow. You will find out if the girl is sufficiently aroused to get intimate with you or not. If you managed to get what you want, congratulations. You have done well and keep up the good work. If not, there is still room for improvements. Remember that girls reject men for several reasons so don't take it so seriously. Take it easy and learn from your mistake. Be like a child who is learning how to walk. He neither counts how many times he falls nor considers himself a failure. He just keep on doing what he is doing because he knows what he is doing is right.
Having a smooth transition through the stages of seduction may prove beneficial to your part. Each stage is bringing you closer to your goal which is to charm a girl in order for her to be your girlfriend. You should be reminded that there is no magic bullet in picking the women up but these methodologies increase your chance of getting a girlfriend. The seduction method can serve as a map for your quest for self-development. A charted territory is much easier to explore than the undiscovered ones. You don't have to reinvent the wheel. You can learn from the master pick up artist who have ventured the wonderland of seduction. What do you think you can do in order to have a smooth transition through the stages of seduction?